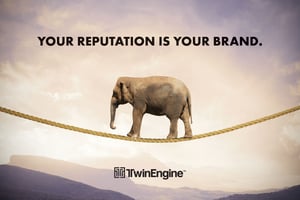 As a business, your reputation is everything. People care about who you are and what you have to offer—and they care about what other people have to say about you. In an online society, your reputation can be built or destroyed by a single action, as clients spread the word about their experience with your business. In fact, one devastating review can ruin your business's reputation, especially if you don't act on it appropriately. Do you have a solid reputation management plan in place for your business? Do you know what to do if you do have a reputation disaster? If you've been ignoring your business's reputation, it's time to take a second look and better understand just how important it really is.
Your Reputation is Your Brand

Many business owners assume that their reputation and their brand are something entirely separate. Their brand, they insist, is what they build it to be: their voice, their personality, the way they choose to connect with their clients. Some people may even believe that their brand is based primarily on their color scheme and the type of information they provide for their clients.
As it turns out, however, your reputation and your brand are vitally intertwined. Clients do not separate reputation and brand in their minds. Your brand, to them, is your reputation. Status Labs found that 73% of people trust local businesses with great reviews more than they trust those without them, and according to BrightLocal 97% of people turn to online reviews to find local businesses. It's the way you've built yourself up, the way you've connected with your clients, the effort that you've put into your customer service. When you imagine a brand, chances are, you imagine its reputation. You might think of the way that brand treats its clients, or you might remember a big disaster relating to the brand. If you go to look up information about a new business, you won't just check out their website and be done with your research. Chances are, you'll also check out the things that other people—satisfied and not—have to say about the business.

What Are People Saying About You When You Aren't in the Room?
In order to keep an eye on your brand's reputation, you don't just need to know what people are saying on your social media pages or how they interact with your team though those elements are certainly important. You also want to know what clients are saying about you when you aren't "in the room," so to speak.
What's the word about your brand when you aren't part of the discussion? You might have a Facebook group specifically for your brand or your fans, and those fans will have plenty to say about your business; but what's being said about your business in other groups, when you aren't there to monitor it? What about Google reviews? Forums? If you step away from your own website, what does your brand's reputation look like?
Monitoring your business's reputation on an ongoing basis is critical to your brand's overall performance. You need to know what people are saying about you no matter where you are so that you can:
Take steps to satisfy unhappy clients. Sometimes, clients just need you to take the time to fix whatever went wrong with their experience with your business. Not only can you help make clients happier and bring them back to your business again, you can show prospects that your brand is willing to go above and beyond when it comes to customer service.
Fix things that your brand is doing wrong. As nice as it would be, you can't read your clients' minds. When you check out what clients have to say about you, however, you can learn more about what they want to see for your brand—and if there's something going wrong, you can take the steps necessary to fix it.
Take steps to fix your reputation if needed. Sometimes, it's not your customer service that sets your reputation. In some cases, you may end up with a damaged reputation because of something someone within your business has done or a decision that your business has made. When you know what's being said about your business, you can take steps to manage the conversation and salvage your reputation.

How Can You Protect Your Reputation?
There are several key steps you can take to help manage your reputation and ensure that you present the presence you want to present online.
Monitor the conversation. Make sure you have a plan in place to monitor what is said about your brand. Keep an eye on Google reviews, social media conversations and forum posts concerning your business. By closely monitoring what is being said, you can better plan your response and more easily create a plan of action. In 1993, for example, news about a syringe supposedly found in a Pepsi can could have destroyed Pepsi's reputation—despite the fact that it was a hoax. Pepsi was able to salvage their reputation and recovered within just a month because the company acted quickly to create a plan and address the conversations that were currently going on.
Respond to negative reviews and news. Negative reviews are going to happen. At some point, your business may even have a PR disaster due to events beyond your control. When negative news comes to light, don't just ignore them—because the problems isn't just going to go away. Instead, take the steps necessary to salvage your reputation. In 2010, for example, BP faced public outcry due to an oil spill in the Gulf—billed as being one of the worst oil spills in US history. Instead of sitting on its heels, BP revamped its environmental conservation efforts, and by the next year had seen growth instead of loss.
Create a response plan. One of the most important elements of your online reputation management is preparing how you're going to respond when something happens. If you don't take control of the narrative, someone else will—and that means they'll be telling your story for you. Instead, prepare to handle a crisis ahead of time. Know who is responsible for responding, what you can post, and when to act—and make sure that you act fast.
Check out our eBook series, GROW2019, for a structured approach to growing your brand. Each eBook covers a particular topic and includes tools to help you be remembered, stand out from the competition and become the success you were destined to be. Visit http://info.twinengine.com/grow2019-series to get started today.