NEW EBOOK: WHAT'S YOUR STORY?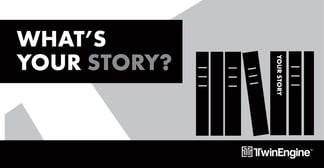 Every company has a unique story to tell, and the story you tell continues to build the value of your business. When you share your story, clients connect with your business on a more personal level. A compelling story can help them to identify not only what you sell but also why you sell. Your story is more than a catchy tagline. It's rooted in your own experience and your company's purpose. Your brand, whether you know it or not, is made up of stories—your stories, your team's stories and the stories others tell about you. Authenticity is an important part of your story and what you say must ring true with your audience or you lose credibility. A great story is authentic, creative, intimate and emotional. It inspires action and takes the audience on a journey with your brand. Great stories affect the way we feel, the way we think and how we react.
Download eBook Eight to Start Telling Your Story.