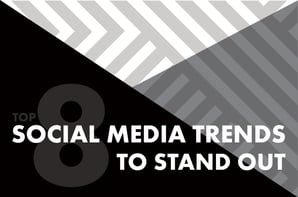 Today, marketing and social media go hand in hand. The importance of social media is to help brands build recognition. Every platform is constantly growing into a full-fledged communication channel, which means this is no time to fall behind. Stay on top of the latest trends to develop a solid marketing strategy to keep your audience engaged.

Instagram is Here to Stay
Instagram is not only defined as a photo-sharing app for millennials, but also a platform where you can build brand awareness and connect with your audience by sharing how you stand out. HubSpot reports more than half of the platform's active users visit the app daily and roughly 70% have spent their time looking up brands. Develop a strategy to build brand awareness, connect with your audience, and reach new viewers. Instagram offers more than showcasing eye-catching photos! Be a part of trending topics by sharing hashtags, create insightful polls, ask trivia questions, and much more. So start swiping up!

Taking Your Leads and Prospects Behind the Scene
Take your audience backstage and give them insight on what your business is all about by using social media platforms to humanize your brand. Give your audience an insider's peek into what is happening in your business by sharing information about community events, your day-to-day operation, celebrations, team meetings, etc. People want to connect with your business and by creating and sharing content that is organic, your audience can gain a deeper understanding of what your brand is all about.

Go Live!
Although Game of Thrones conquered every social media platform, a new appearance is coming for the Iron Throne, live stories. It goes without saying that live stories can boost your engagement and awareness of a brand, but to do it well can be quite a battle. Going live increases the sincerity of your business and additionally, adds a personal touch to storytelling that no one, but you, can replicate. Interest your audience with unique facts about your brand, host a Q&A session, or give behind-the-scene tidbits of your business. Don't restrict yourself to one or two social media platforms, rule them all!

The ChatBots Are Coming!
I'm sure you have seen pop-up messages when you're on a website. A chatbot is a computer program that conducts an instant conversation. It's like instant gratification. Chatbots automatically and quickly respond to questions, resolve a problem, or give your audience information based on what they are looking for. Think of a chatbot as your very own personal assistant. Isn't that nice? There isn't a "one size fits all" when it comes to designing your chatbot. Define a goal, pick a platform, and match the tone of your bot to your business to better communicate with your audience.

#HashtagTrends
Trying to stand out is no easy task, but incorporating trending hashtags into your social content can help you gain brand recognition. Hashtags increase the visibility of your posts and help people easily discover content they are looking for. Keep up with trending topics and include the hashtags in your content to expand your business' reach. You can also build your audience by generating a brand-specific hashtag that represents your brand and consistently use it on all of your social media platforms. Don't forget to monitor your visibility on social media to engage with your audience.

LinkedIn is Growing
If you're looking to communicate how you stand out and build your brand's awareness, look no further! LinkedIn is growing fast and it means business. According to Hootsuite, there are more than 610 million registered users and 30 million businesses with 86% of them using the network. Businesses can attract twice as many visitors with solid profiles than ones that are incomplete and businesses that post frequently generally gain followers six times faster. Planning and developing a solid strategy will get your brand's message seen by those who are searching for quality content and opportunities to engage. Check out trending topics and give your two cents, and stay engaged by posting and sharing on a regular basis.

Augmented Reality is the Future
Have you ever used filters on Facebook or Instagram? Augmented reality is a technology that enhances your experiences by adding virtual augmentations to your line of sight and is tightly intertwined with many social media platforms. For example, designing your home with virtual furniture from IKEA or sampling a brand's products virtually on Facebook. Because augmented reality is extremely shareable, it is a great way to get your audience to engage with your business. Revolutionize your business and attract your audience by creating your own fun filters, games and icons, give your audience a 360 video of your office, or take them on a tour to community events!

Let's Get Personal
There's nothing more personal than engaging with your audience face-to-face. And it's more than just conveying your brand's message, it's about expressing who you are and what you truly stand for. Some of the best ways to get personal is to simply ask them questions for feedback, showcase your team, share fun facts about your business or tell your story. Being open and honest with your audience establishes trust and builds relationships.

Do You Stand Out?
See where you stand on the 8 fundamentals of standing out. Go to http://info.twinengine.com/brand-traffic-control-radar to take our Brand Traffic Control Radar to assess which fundamentals need strengthening.