NEW EBOOK: ARE YOU REACHING YOUR BUSINESS GOALS?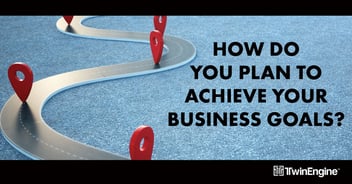 While formulating and adjusting your strategy is an ongoing requirement for a business, it will be wasted effort without a plan that defines the steps and actions needed to accomplish the goals and to orchestrate their implementation. Many companies do not spend the time required on the front end to schedule initiatives, assign roles and accountability and set up interim check-ins to determine how the plans are evolving toward completion. While long-term strategies may be fluid and subject to such things as market and price changes, the entry of new competitors into the market and even innovations, short-term initiatives can provide the flexibility to accommodate change while achieving objectives. Planning and strategy can make all the difference in growing your company and can set the stage for future growth and opportunities.
Download eBook Twelve to Create a Plan to Reach Your Goals.